About
Mystery Gift is an option on the home menu allowing you to obtain Pokémon or Avatars with special codes found on Sam's site. All of the public giveaways have been Pokémon or Avatars.
Sam has stated that no new Mystery Gifts will be released.
How To Receive
To receive a Mystery gift, you will need a certain code; this code can be found out by solving a puzzle. Then enter "Mystery Gift" on the game menu and type or paste the code in. Then click the "Enter Code" button. Mystery Gift codes can be used more than once to receive the gift multiple times. Codes are not case sensitive.
You can also find the weekly code on the Sam & Dan Games blog. There are also periodic giveaways from Sam's twitter that you can win by answering questions. Make sure you are using the correct version of PTD to input the code, or else it won't work.
Codes
Usable
---
Expired
---
expire (verb): Cease to be valid, typically after a fixed period of time.
Unless Sam unexpectedly and benevolently decides to do otherwise, the following codes will remain expired (adj: invalid) indefinitely. No comments (etc.) placed on this wiki will persuade him otherwise.
v5.8


Ponyta: 65816334
v5.7


Tangela: n41r7376
v5.6


Lickitung: sac34544
v5.5


Grimer: 36657b84
v5.4



Bulbasaur Hat Avatar: 87451661
v5.3


Elf Avatar: 46233nc4
v5.2



Delibird Avatar: 36657p84
v5.0 - v5.1


Victini: 11262011
v4.9.6


Horsea: 35394175
v4.9



Alakazam Avatar: s21r25o4
v4.7 - v4.8

Gastly Avatar: 11312011
v4.6


Goldeen: 53s5n274
v4.5


Krabby: 38257p84
v4.3


Venonat: s21r25o4
v4.2


Magnemite: n41r7594
v4.0 - v4.2


Celebi Hoodie Avatar: 8b293b64
v3.8.1 - v3.9


Camper Avatar: 365a1843
v3.7


Team Rocket Avatar: 944bn284
v3.6.1



Bug Catcher Avatar: 4b1r9584
v3.5



Shiny Geodude Hat: 361rnb34
v3.3


Raikou: 361rc454

Entei: e94b6253

Suicune: gs9014z1
v3.2.1


Tentacool: 461r3t44
v3.1.5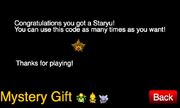 Staryu: n31r7595
v3.1

Onix: 851r3b64
v3.0.1


Shiny Spearow: 721r6934
v2.8 - v2.9.1


Shiny Charmander: 381rm1n4
v2.4


Shiny Jigglypuff: 673034
Trivia
Victini's Mystery Gift code is the only code that is identical to the date of its release (11-26-2011). It is also Sam's Birthday. However, the Gastly avatar was supposed to have 10312011 (10-31-2011), but Sam put 11312011 (11-31-2011).

Sam's birthday mystery gift could have been Jirachi, Shaymin, Celebi, or Victini (Version 5.0), but Victini was chosen for this gift.

On 12/13/2011, if you had a Delibird Costume on you couldn't enter the Avatar Chat; this is because Avatar Chat needs to be updated with every new avatar.
Tangela's mystery code was originally "114", which is its Pokedex number.
The mystery gift will no longer change weekly; it will stay on normal Missingno untill further notice.
Community content is available under
CC-BY-SA
unless otherwise noted.